Help To Care App
Caring for someone due to illness, disability or old age?

The Free Help to Care app is a simple-to-use tool developed to provide all carers with clear advice, guides, training and local service information.

We want to make sure you find the right help if you're concerned about someone in your care.

The app is currently only available for carers in Kent & Medway, but we hope to expand this useful tool to other areas soon.

Created by local care professionals, the Help to Care app has features to help you on-the-go. From learning who is at risk of pressure sores, to checking where to get help if someone has symptoms of a urine infection.

NHS Help to Care app features:

• Handy tools to help you quickly find when and where to seek medical advice
• Useful advice articles and guides in one place, to help you on-the-go
• A range of training materials and videos to help you too

The NHS Help to Care app is a tool to help support carers in the invaluable work they do.
Kooth Parent and Carer Information Sessions for June and July
You may have been made aware by school or a professional of a service called Kooth. Kooth is designed to support the wellbeing and resilience of young people and is available for 10-25 year olds in Kent. Kooth is running free online parent information sessions in June & July. The sessions are designed to help you understand how Kooth can support your child with their mental health and wellbeing. Each session will cover:
A Presentation on Kooth
A Live tour of the Kooth site
An opportunity for Questions & Answers about Kooth
Please click on the registration link for the date/time you'd like to attend:
Kooth provides a safe, secure means of accessing help via the internet. By accessing Kooth, young people can benefit from:
A free, confidential, anonymous and safe way to receive support online.
Out of hours' availability. Counsellors are available from 12noon to 10pm on weekdays and 6pm to 10 pm at weekends, every day of the year on a drop in basis.
Online Counselling from a professional team of BACP qualified counsellors is available via 1-1 chat sessions or messaging on a drop in basis or via booked sessions.
Discussion Boards which are all pre-moderated allow young people to access peer to peer support.
Online Magazine full of moderated articles many of which are submitted by young people offering advice and guidance on a huge range of topics.
No referral is required. Young people can register for kooth independently at www.kooth.comTo find out more visit www.Kooth.comIf you have any questions or would like to discuss what Kooth.com can offer, please address them to the school/[professional. If you would prefer to contact Kooth directly, simply email parents@kooth.com
Better Health Adult Obesity Summer Campaign
To help support the launch of the campaign, we are delighted that the following resources are now available on the Campaign Resource Centre (CRC) for use:
Campaign PR toolkit, including campaign overview, messaging and press release
TV advertisement, with and without subtitles
Posters, A0, A3 and A4
Social media animations (nutrition and physical activity)
Additional resources, including a British Sign Language version of the TV advert and a partner toolkit will also be added soon.
This summer, the campaign will encourage adults across the nation to lose any excess weight, eat more healthily and get more active.
As restrictions have eased, the summer offers a unique opportunity to motivate and encourage adults to make positive changes to their health.
The campaign will continue to offer free support, guidance and tools to help those working towards a healthier weight.
FITNESS FOR ALL
FITNESS FOR ALL
FROM 16TH AUGUST, 2021
Join us every Monday Morning @11am – 12.45 at
St Radigunds Community Centre, Dover, Kent,
CT17 0HL
First 4 sessions free then £3 per session
YOU CAN..
.
Choose to take part in fitness activities
Meet new people and make new friends
Sit and chat with group members and our GroupMotivators
Try new food and drinks for free
Get in touch to find out more:
Email:
fitnessforall@turning-point.co.uk
Or call Nicky on 07917 435299
www.turning-point.co.uk
Patients of Buckland Surgery, Peter Street Surgery and Tara Surgery
All three Surgeries, Buckland Medical Centre, Tara and Peter Street Surgery have been working collaboratively together for the past seven years. Now we feel the time is right to merge all three surgeries. This will take effect as from 23rd April 2021. We would like to reassure our patients that all services currently provided will remain the same at all three sites.
World Hypertension Day
Yesterday was World Hypertension Day 2021. This year's theme was "Measure Your Blood Pressure Accurately, Control It, Live Longer" and is focusing on accurate blood pressure measurement methods. To download the World Hypertension Day Fact Sheet click here.
It, therefore, seems appropriate that, as part of the Blood Pressure Monitoring@Home programme, we are in the middle of delivering blood pressure monitors to practices in Kent and Medway. They will be delivered to practices in west Kent next week. Last week we delivered in Medway and Swale, and it will be the turn of practices in east Kent and Dartford Gravesham and Swanley in the next few weeks.
Covid-19 vaccination programme
Checking vaccination status with the NHS App
People who want to travel abroad can now use the NHS App to show they have been fully vaccinated.
A full course is currently two doses of any approved Covid-19 vaccine. Vaccine status will be available from the NHS App which can be downloaded from app stores, with more information available on gov.uk. The CCG has also published information on its website.
If patients are unable to access this service, and they have had two vaccines, they can request a paper letter from the NHS by calling 119. Patients should only call 119 if they have had their second dose more than five working days beforehand. It may take seven working days for the letter to arrive.
Government and NHS information has made it clear that GP practices cannot provide proof of vaccination status so patients should not contact them.
Mental Health Awareness Week - 10th-16th May
During this pandemic, millions of us have experienced a mental health problem, or seen a loved one struggle. And we've seen that the support we all need just isn't out there.
The Mental Health Awareness Week 2021 is asking people to focus on Nature.
During long months of the pandemic, millions of us turned to nature. The Mental Health Foundation's research on the mental health impacts of the pandemic showed going for walks outside was one of our top coping strategies and 45% of us reported being in green spaces had been vital for our mental health. Websites which showed footage from webcams of wildlife saw hits increase by over 2000%. Wider studies also found that during lockdowns, people not only spent more time in nature but were noticing it more.
It was as if we were re-discovering at our most fragile point our fundamental human need to connect with nature.
The NHS website Every Mind Matters - NHS (www.nhs.uk) is a trusted and reliable source of health and wellbeing information.
Children and Young People can access specific support and information at Children and young people's mental health services (CYPMHS) information for children and young people - NHS (www.nhs.uk)
Kent & Medway Mental Health Support for Families
Includes Us 2 Support Groups After Easter 2021
Includes Us 2 is a parent driven charity providing services for disabled children and their families, in the areas of Ashford, Dover and Shepway.
Due to the current need for increased social distancing measures, Includes Us 2 will be offering a series of "Zoom Time" support groups over the next few months instead of our usual face to face meetings. "Zoom Time" provides a relaxed and informal space for parents & carers of children with a disability or a special educational need to get together "virtually" and access information and support. Speakers are regularly invited to these sessions to provide information and advice about specialist services.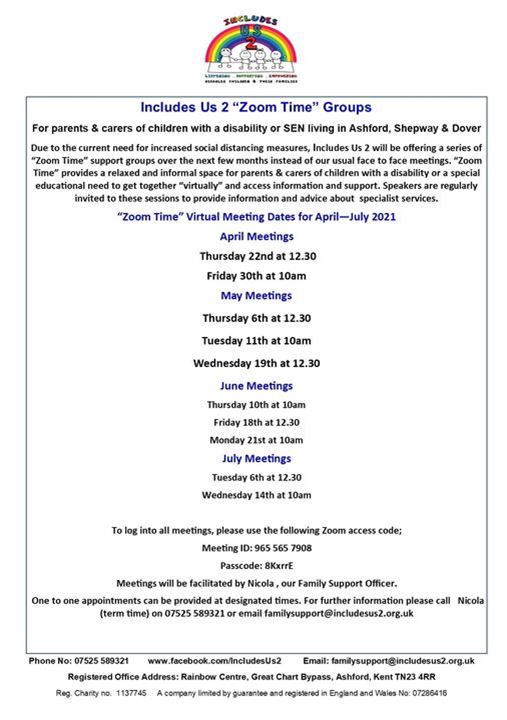 Community Services in Dover (updated 17th March 2021)
Dover District Council are pleased to provide the Support Services List to the public.
Created in collaboration with Health and Social Care providers, Voluntary sector, Community groups and Department for Work & Pensions it is designed to provide a useful list of information such as:
Key contacts
Emergency Food
Access to Cash Options
Shopping, Prescriptions and Meals
Food shops & wholesalers delivering locally
Mental Health support
Befriending
Carer Support and Special Needs
Older People's Services
Young People's Services
Miscellaneous Community Support
Community Safety
Benefits, Jobs & Debt
Utilities, Council Tax and Dover District Council services
Local Housing Providers
Emergency Health & Patient Transport
The full list can be viewed here Services in Dover Newsletter_ Edition 17.pdf and can be printed.
If you would like to be included in the next Support Services list please contact the Community Services Team at Dover District Council.
Children's Mental Health Week 1-7 February 2021
For Children's Mental Health Week 2021 we will be encouraging children (and adults) to explore the different ways we can express ourselves, and the creative ways that we can share our feelings, our thoughts and our ideas.
Click the picture to find out more information.