Help To Care App
Caring for someone due to illness, disability or old age?

The Free Help to Care app is a simple-to-use tool developed to provide all carers with clear advice, guides, training and local service information.

We want to make sure you find the right help if you're concerned about someone in your care.

The app is currently only available for carers in Kent & Medway, but we hope to expand this useful tool to other areas soon.

Created by local care professionals, the Help to Care app has features to help you on-the-go. From learning who is at risk of pressure sores, to checking where to get help if someone has symptoms of a urine infection.

NHS Help to Care app features:

• Handy tools to help you quickly find when and where to seek medical advice
• Useful advice articles and guides in one place, to help you on-the-go
• A range of training materials and videos to help you too

The NHS Help to Care app is a tool to help support carers in the invaluable work they do.
FITNESS FOR ALL
FITNESS FOR ALL
FROM 16TH AUGUST, 2021
Join us every Monday Morning @11am – 12.45 at
St Radigunds Community Centre, Dover, Kent,
CT17 0HL
First 4 sessions free then £3 per session
YOU CAN..
.
Choose to take part in fitness activities
Meet new people and make new friends
Sit and chat with group members and our GroupMotivators
Try new food and drinks for free
Get in touch to find out more:
Email:
fitnessforall@turning-point.co.uk
Or call Nicky on 07917 435299
www.turning-point.co.uk
Patients of Buckland Surgery, Peter Street Surgery and Tara Surgery
All three Surgeries, Buckland Medical Centre, Tara and Peter Street Surgery have been working collaboratively together for the past seven years. Now we feel the time is right to merge all three surgeries. This will take effect as from 23rd April 2021. We would like to reassure our patients that all services currently provided will remain the same at all three sites.
Covid-19 vaccination programme
Checking vaccination status with the NHS App
People who want to travel abroad can now use the NHS App to show they have been fully vaccinated.
A full course is currently two doses of any approved Covid-19 vaccine. Vaccine status will be available from the NHS App which can be downloaded from app stores, with more information available on gov.uk. The CCG has also published information on its website.
If patients are unable to access this service, and they have had two vaccines, they can request a paper letter from the NHS by calling 119. Patients should only call 119 if they have had their second dose more than five working days beforehand. It may take seven working days for the letter to arrive.
Government and NHS information has made it clear that GP practices cannot provide proof of vaccination status so patients should not contact them.
Kent & Medway Mental Health Support for Families
Includes Us 2 Support Groups After Easter 2021
Includes Us 2 is a parent driven charity providing services for disabled children and their families, in the areas of Ashford, Dover and Shepway.
Due to the current need for increased social distancing measures, Includes Us 2 will be offering a series of "Zoom Time" support groups over the next few months instead of our usual face to face meetings. "Zoom Time" provides a relaxed and informal space for parents & carers of children with a disability or a special educational need to get together "virtually" and access information and support. Speakers are regularly invited to these sessions to provide information and advice about specialist services.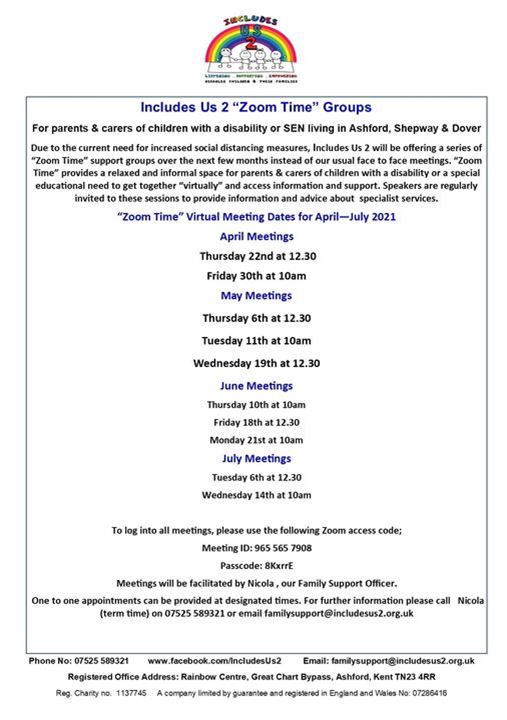 Community Services in Dover (updated 17th March 2021)
Dover District Council are pleased to provide the Support Services List to the public.
Created in collaboration with Health and Social Care providers, Voluntary sector, Community groups and Department for Work & Pensions it is designed to provide a useful list of information such as:
Key contacts
Emergency Food
Access to Cash Options
Shopping, Prescriptions and Meals
Food shops & wholesalers delivering locally
Mental Health support
Befriending
Carer Support and Special Needs
Older People's Services
Young People's Services
Miscellaneous Community Support
Community Safety
Benefits, Jobs & Debt
Utilities, Council Tax and Dover District Council services
Local Housing Providers
Emergency Health & Patient Transport
The full list can be viewed here Services in Dover Newsletter_ Edition 17.pdf and can be printed.
If you would like to be included in the next Support Services list please contact the Community Services Team at Dover District Council.