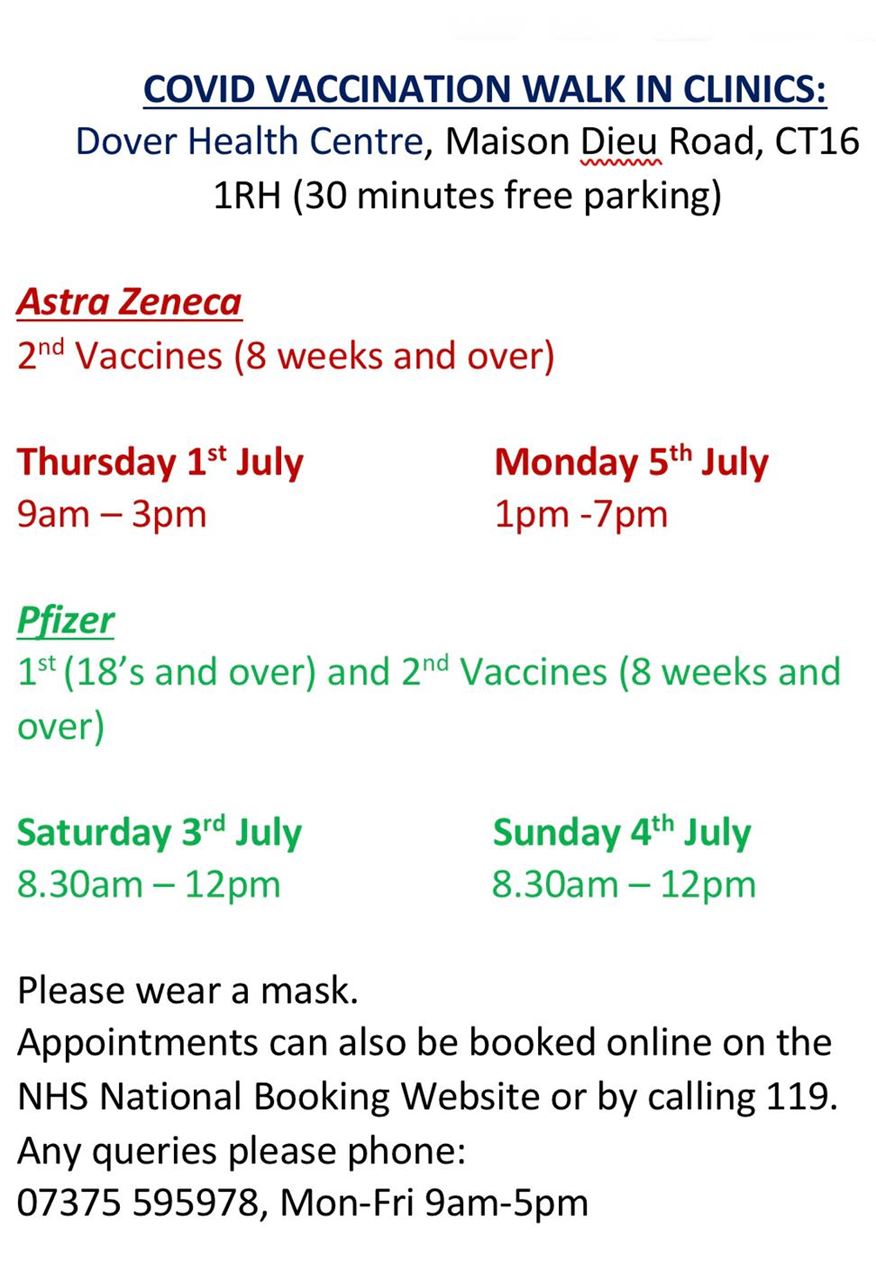 National Covid-19 vaccination website now live
You can book your vaccination appointments online if any of the following apply
you're aged 18 or over
you'll turn 18 before 1 July 2021
people at high risk from coronavirus (clinically extremely vulnerable)
people who live or work in care homes
people with a condition that puts them at higher risk (clinically vulnerable)
people with a learning disability
people who are a main carer for someone at high risk from coronavirus
The order in which people will be offered the vaccine is based on advice from the Joint Committee on Vaccination and Immunisation (JCVI).
You can book appointments at a larger vaccination centre or a pharmacy that provides COVID-19 vaccinations.
You do not need to wait to be contacted by the NHS, just click this link Book a coronavirus vaccination - NHS (www.nhs.uk)
Last updated Friday 18th June 2021.
Local Covid-19 vaccination information
Covid-19 vaccinations for our patients are being provided by Total Health Excellence East in partnership with Channel Health Alliance from Dover Health Centre.
This is for GP practices covered by three Primary Care Networks - Total Health Excellence East PCN, Dover Town PCN, and the Deal and Sandwich PCN.
This covers the following GP practices:
Aylesham Medical Practice
Balmoral Surgery, Walmer
Buckland Medical Practice, Dover
High Street Surgery, Dover
Lydden Surgery
Manor Road Surgery, Deal
Pencester Surgery, Dover
Peter Street Surgery, Dover
St James' Surgery, Dover
St Richard's Road Surgery, Deal
Sandwich Medical Practice
The Cedars Surgery, Walmer
White Cliffs Medical Centre, Dover
All vaccinations for the above GP practices will be administered at the Dover Health Centre, Maison Dieu Road, Dover, CT16 1RH.

Vaccinations for Ash Surgery are being provided from Minster Surgery, Thanet.
The PCN was in one of the later waves of vaccine sites approved to start. Its first supplies were received on 14 January and vaccinations began on 15 January.
To support catching up on priority groups all Sandwich residents in the over 80s category (approx. 900 people) are being contacted, from 21 January, to invite them to an additional vaccination service running from Margate next week.
Vaccination from the Balmoral surgery in Deal will also be set up. The Dover based services will continue to also provide vaccinations for people in these areas.
None of these locations offer a drop-in vaccination service. All vaccinations are arranged in advance through invitation based on the national priority groups. Please wait to be contacted for when you can get the vaccine.
Please read the questions and answers below about our local vaccination service. Our phone lines are very busy; please help us to keep lines open for people needing to make appointments for other health matters.
As of Monday 14th June we are currently inviting:
This list will be amended as the National groups are approved for vaccination, and our local vaccination supply is delivered.
We will update this webpage regularly.
Our practice teams are contacting all eligible people by telephone to book an appointment at the clinic. If we do not have a current contact telephone number we are sending a letter to the patient at their registered address and asking them to contact their practice.
If I cannot attend an appointment what should I do?
If you have received and accepted an invitation for a Covid-19 vaccine we would strongly encourage you to prioritise coming to the appointment. If for unavoidable reasons you cannot make it please contact your practice in the first instance to cancel the appointment so that we can invite someone else. Due to the number of people requiring vaccinations, we may not be able to offer you with a new appointment straightaway after cancellation of a first appointment.
Is there transport available for getting to the vaccine clinic?
We would ask that anyone who does not have their own transport tries to arrange a lift with a friend or relative.
If that is not possible please contact NHS Volunteer Responders on 0808 196 3646 (8am to 8pm, 7 days a week) to see if you are eligible for support NHS Volunteer Responders, or contact a local taxi service who may be able to help you.
Vaccine Scam Alert
We are aware that some people are receiving fraudulent calls and text messages offering the COVID-19 vaccination. In some cases, people are asked to press a number on their keypad or to send a text message to confirm they wish to receive the vaccine. Doing so is likely to result in a charge being applied to their phone bill. In other cases, callers are offering the vaccine for a fee or asking for bank details.
Please be alert to these scams.
The vaccine is only available from the NHS and the NHS will contact you when it is your turn. The NHS will:
NEVER ask you to press a button on your keypad to confirm you want a vaccine.
NEVER ask for payment for the vaccine or for your bank details.
If you receive a call you believe to be fraudulent, hang up. If you believe you have been the victim of fraud or identity theft you should report this directly to Action Fraud on 0300 123 2040. Where the victim is vulnerable, report it to Kent Police online or phone 101.
NHS Information
You can also find more information about the vaccines on the NHS COVID-19 vaccinations webpage.
Public Health England has also published guidance COVID-19 vaccination: why you are being asked to wait.
Last updated Tuesday 15th June 2021.
Supporting Your Recovery after Covid-19
NHS England and NHS Improvement's 5-Point plan for Long COVID support
In October 2020, Sir Simon Stevens announced a five-part package of measures to boost NHS support for patients experiencing long-term effects of COVID-19. The package includes:
New guidance commissioned by us from NICE on the clinical case definition of Long COVID. This includes patients who have had COVID who may not have had a hospital admission or a previous positive test. It will be followed by evidence-based NICE clinical guidelines on the support that Long COVID patients should receive, due to be published by the end of the year.
The second phase of the Your COVID Recovery platform – an online, tailored rehabilitation programme that enables patients to be monitored by their local rehabilitation teams to ensure that they are on track with their care.
The Your COVID Recovery public facing information website launched in July 2020, providing general information on all aspects of recovering from COVID-19 including physical, emotional and psychological wellbeing, advice on recovery and information for families and carers.
Designated post-COVID assessment services. Additional funding of £10 million is to be invested this year to set up specialist post-COVID assessment services across England, to complement existing primary, community and rehabilitation care.
National Institute for Health Research (NIHR) funded research on Long COVID to better understand the condition and refine appropriate treatment.
An NHS Long COVID taskforce which includes patients with Long COVID, medical specialists and researchers.
Help now available in Kent and Medway for 'Long Covid'
People suffering with Long Covid, also known as Post-Covid Syndrome, can now be referred to a Post-Covid Assessment Service in Kent and Medway.
The Post-Covid Assessment Service opened on 14 May 2021.
NHS Kent and Medway Clinical Commissioning Group have contracted Maidstone and Tunbridge Wells Trust, who are working in partnership with West Kent Primary Care GP Federation, to provide this service for people diagnosed with Post-Covid Syndrome.
Post-Covid Syndrome is obviously a new condition but the National Institute for Clinical Excellence (NICE) issued guidelines in identifying, assessing and managing the long-term effects of Covid-19 in December 2020. The NHS has also published national guidance that has been followed in setting up the new service.
Symptoms of Post-Covid Syndrome can include fatigue, breathlessness, anxiety and depression, joint or muscle pain, chest pains, and not being able to focus or think straight.
Once referred to the service, the Post Covid Assessment Service will make contact with the patient and an expert team of professionals will assess their condition and then provide support in accessing services that can support their recovery.
Dr Navin Kumta, GP and clinical lead for the NHS Kent and Medway Clinical Commissioning Group, said:
"I am pleased that the Post-Covid Assessment Service is now open. I have seen many patients suffering with Long Covid and know how difficult it is for those experiencing longer term effects of a Covid infection.
"GPs will now be able to refer patients with a diagnosis of Post-Covid Syndrome to this new service where they can get a specialised assessment from relevant professionals and the support they need."
If the effects of a Covid infection last for more than 12 weeks, patients should contact their GP practice so any alternative diagnosis for the condition can be ruled out and to decide if the Post Covid Assessment Service would be suitable.
More information to help with Your Covid Recovery in Kent and Medway is available here.
As this is a new condition, the NHS is also collecting the experiences of people with Long Covid to find out more about how it affects people and their families to make sure the patient voice is heard to shape the development of the service.
Almost 500 people have already either completed a survey or attended an online meeting.
The CCG is still organising interviews with patients and families who have experienced the longer term effects of a Covid-19 infection. If people can spare half an hour to tell us about their experiences, please visit this page on our website.

Second Covid Vaccine information from Channel Health Alliance and Total Health Excellence
Patients at all of our practices who had their first dose of Covid vaccine in January 2021, should have received a text invite with a booking link.
If you have not received an invitation please phone the site where you had your first dose:
Dover Health Centre 07375 595978
Folkestone Health Centre 07956 364442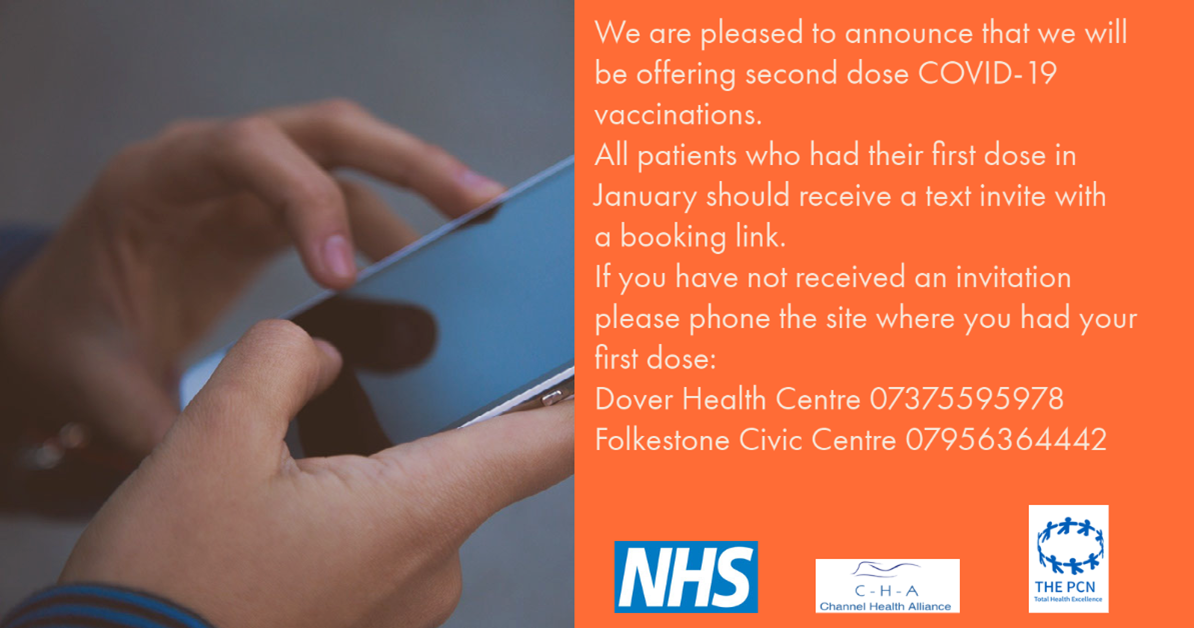 Covid Vaccine First Dose for the over 50s
Please remember to book your 1st COVID vaccine if you are over 50 yrs of age, or age over 16 and in the 'at risk' group (Group 6).
All eligible Dover Town patients should have been contacted, but if not, please do contact either NHS119 or the National Covid vaccine website to book your vaccine now.
You may have heard that for the next month or so we do not expect to be getting any new 'first dose' vaccines to give.
This is a National situation. We have clinics running Sat 27th and Sun 28th March to give 1st doses of Astra Zeneca to all our remaining Group 1-9 patients.
There may be a wait for you to get a vaccine if you do not take up this offer now.
Please remember that whilst infection numbers are improving which is good news, this risk remains, and we are seeing a third wave in Europe.
For all our patients who are now eligible for the vaccine, we strongly recommend you take up the offer now, to avoid any delay in your vaccination, and to ensure you have immunity in the event of any further infection rises here.
If you know someone due the vaccine please encourage then to take up this offer now. The evidence for vaccine effectiveness is robust, and the vaccine is safe. Second dose vaccines will be continuing as planned, with vaccines being given in the 11th week following your first vaccine, in line with National Policy.
Housebound visits start
Working closely with our colleagues at Total Health Excellence and Channel Health Alliance, Dover Town PCN is happy to confirm that vaccines have begun for our housebound patients.
All patients registered as housebound will be receiving phone calls from their surgeries over the next couple of weeks to discuss the vaccine and confirm that you are happy to have the vaccination. This information will then be passed to our appointments team who will organise for a clinical team to come out to the patient to complete the vaccination.
If you believe you should be registered as Housebound and have not heard from your surgery, please contact them directly to discuss your situation and clinical record.
Last updated Friday 12th February 2021